Two things I love about these cookies, their red color and their exquisite lemon cheese taste. Those Sablés were in fact chosen by my 2 and a half year old daughter who was very excited to help me prepare them and she actually did a great job shaping few. Here's the recipe, enjoy it with your loved ones this Christmas season. Credits of the below and above photos goes to the talented Food Photographer Omar Frangieh.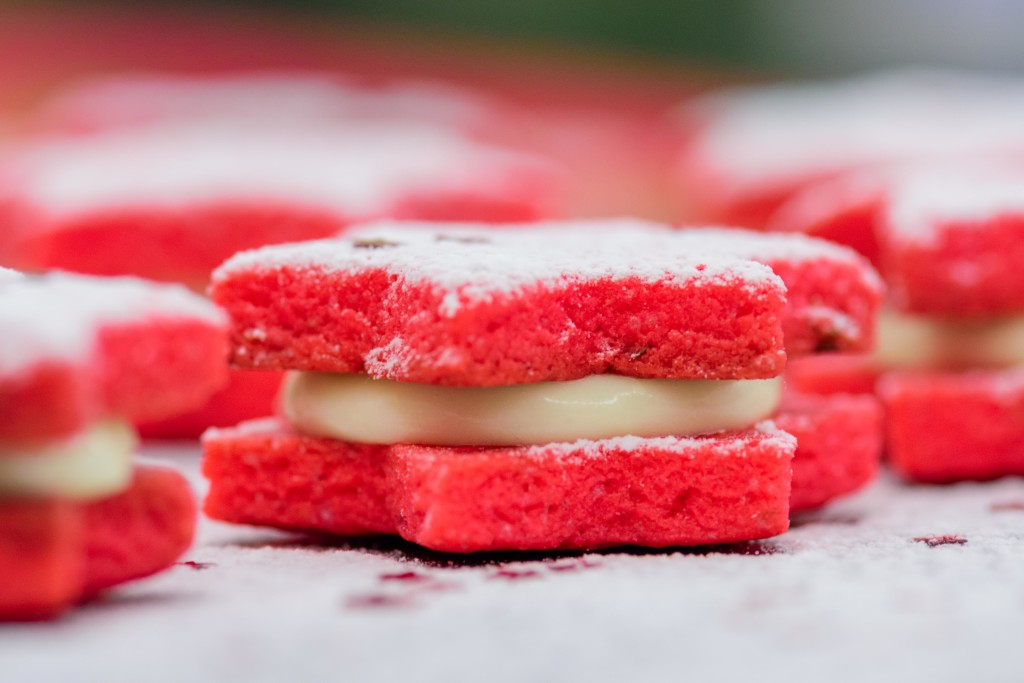 Christmas Red Velvet Cookies

Print recipe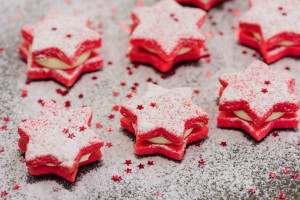 | | |
| --- | --- |
| Servings | 12-15 |
| Prep | 20 minutes |
| Cook | 13 minutes |
| Total time | 33 minutes |
| Course | Dessert |
| Occasion | Christmas |
| Cuisine | French |
| From book | Sables Maison, Marabout |
Ingredients
250g Flour
125g Butter
100g Sugar
1 Egg
1 teaspoon Red Food Color
1 Lemon Zest
Pinch of Salt
Cream
200g Cheese (Philadelphia or St-Moret)
100g Powder Sugar
80g Butter
Directions
In a bowl, mix the flour, salt, lemon zest and the sugar together

Add the cubes of butter and using your fingertips, rub the ingredients together until the mixture resembles breadcrumbs. This Technique is called in french "Sabler la pate".

Add the egg and the liquid food color and mix until a dough forms.

Roll out to a thickness of about 0.5cm/¼in. Cover with a film and place in the fridge for about an hour.
Preheat the over to 180C.


Remove from the fridge and cut out shapes of your preference. I personally used stars, trees and snowman. Place all the cookies on a baking tray.

Bake for about 10-13 minutes
Cream
In a bowl, beat the butter until they become smooth and homogenous. Do the same with the cream cheese.

Mix the cream cheese and butter together on medium speed until smooth, about 2 minutes. Add the sugar slowly while mixing. Beat for 2 minutes. I personally added few drops of Lemon juice to give a more lemony taste. Beat on high for 2 full minutes.

Fill a sleeve pocket with the cream mixture, then add a small portion unto every biscuit that should be filled.

Cover with another biscuit and press gently.
Bon Appétit!