After the holiday season which was filled with baking this year from all kinds of Christmas cookies to several types of Yule Log cakes "Buche de Noël" comes a lighter take on a classic french dessert that could be used for decoration, as a base layer for several desserts or as a gourmet snack that goes well with coffee and tea.
The classic french meringue recipe is not at all complicated, yet very delicate in cooking. If you maintain a steady low temperature of 80-90C then you will have a successful meringue in shape, color and texture. The oven plays an important role in this kind of desserts, for that I had to buy a professional/industrial electrical oven. The first thing crossed my mind when I first got the oven was to bake meringues. so I looked up several recipes and decided to try on something new, which is Walnut Meringues "Meringues Aux Noix" which uses the same basic recipe or the french meringue  except adding roasted/chopped walnuts to the final mixture.
This post is dedicated to my friend Leen the talented food stylist that has @Loveinadish on Instagram, check her out.
Meringue À La Française

Print recipe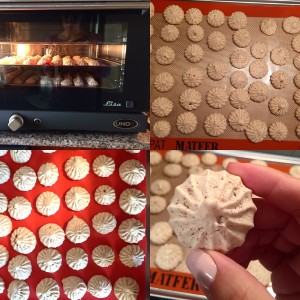 | | |
| --- | --- |
| Prep | 15 minutes |
| Cook | 2 hours, 30 minutes |
| Total time | 2 hours, 45 minutes |
| Course | Dessert, Snack |
| Misc | Gourmet |
| Cuisine | French |
| By author | Alain Ducasse |
Ingredients
4 Egg Whites
125g Powder Sugar
125g Icing Sugar
250g Walnuts (Optional)
Note
There are many variations that derive from the classic french meringues. This time I used walnuts. If you don't want to flavor the classic meringue then skip the first step which is mixing the icing sugar with walnuts and roasting them.
Directions
If you are using Walnuts, then Preheat oven to 180C.
Mix Walnuts with icing sugar, then Roast for 8 minutes. Chop them and set aside.

Preheat oven to 80C

Start by Whisking egg whites at a low speed for 1 minute, then medium speed until they form a stiff peak. Gradually start adding the powder sugar until the color becomes glossy and a bird's beak form.

If using walnuts, now is the time to add them to the mixture, by gently folding the roasted walnuts and icing sugar.

If you are not using walnuts then here you could just fold in gently the icing sugar.

Pour the mixture into a large baking bag. Pipe on baking sheets or silicon sheets using large round or star shape.

Place in the oven for about 2-2.5 hours until they dry out completely. The important thing here is to maintain a steady temperature so that most importantly the color will not change and the texture becomes crunchy.

Leave to cool completely before preserving them in air-tight containers.